Smart Jira, Instantly!
Search Jira issues using natural language, right from Slack - no JQL needed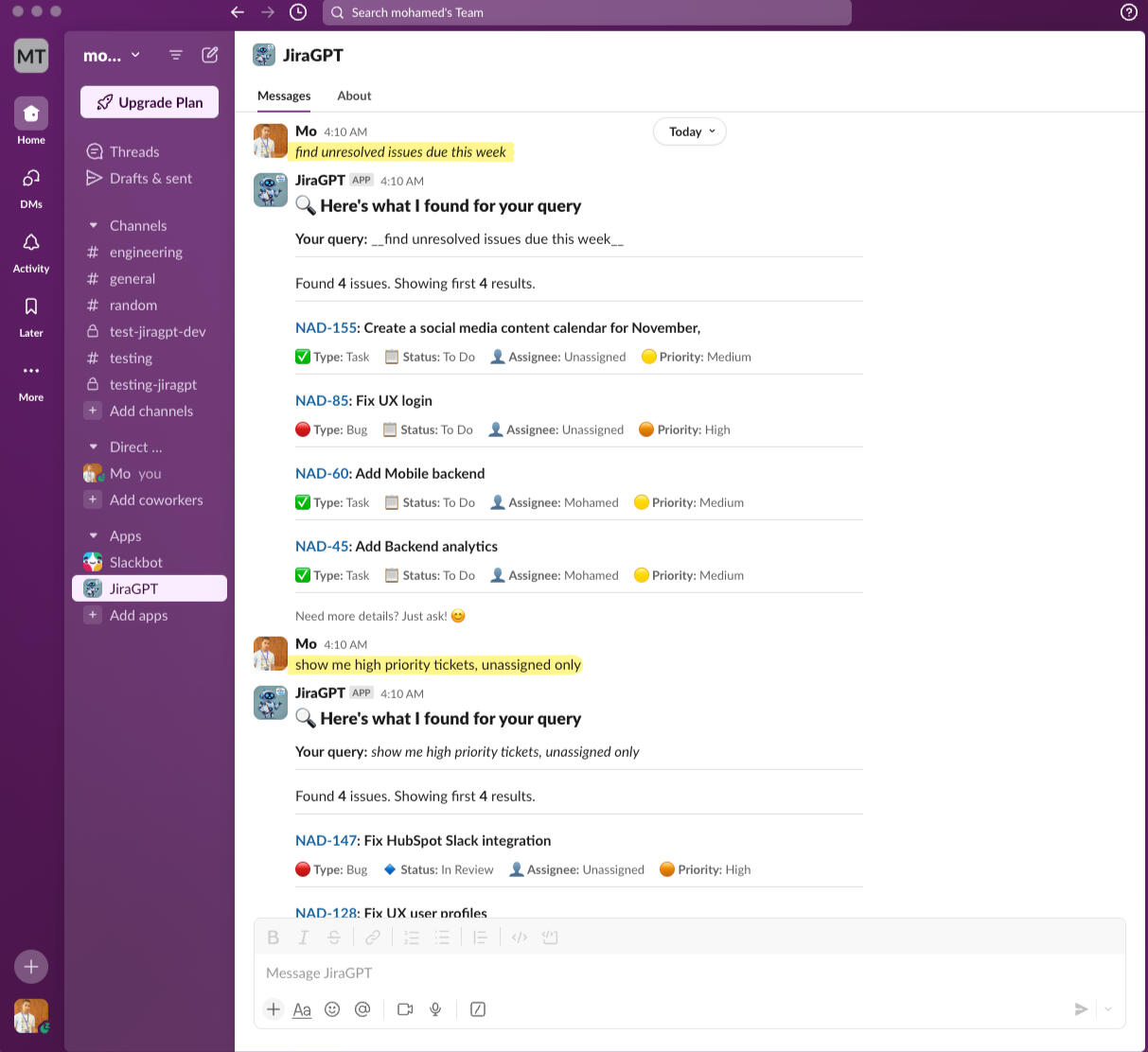 ---
How it Works
1. Install on Slack
Quickly add the JiraGPT app to your Slack workspace with just a few clicks. It's simple and straightforward.
2. Connect to Jira
Seamlessly integrate your Jira account with JiraGPT. This ensures that your Jira issues are just a command away in Slack.
3. Invite JiraGPT to Channels
Easily invite JiraGPT to your preferred Slack channels using the /invite @JiraGPT command. Ensure that the right channels have access to JiraGPT's capabilities.
4. Engage & Explore
Start your journey with JiraGPT. Interact, ask, and let the tool do the magic. For instance, you can try /jiragpt show me in progress issues to quickly view tasks that are underway.
---
Quick Project Updates
Get updates on tasks approaching deadlines or review last week's progress, all directly from Slack. No Jira login needed.
Team Member Oversight
Quickly assess the workload of team members. See who has the most tasks or check if someone is overloaded before assigning them another ticket.
Efficient Bug Tracking
Fetch the latest reported bugs and pinpoint unresolved critical issues. Stay updated on the health of your software without needing to dive deep into Jira.
---
JiraGPT Free Plan
Get started with JiraGPT's core features and transform the way you search Jira from Slack. Ideal for light users or those who want to try before they buy.
Natural language Jira queries

Integration with Slack

15 queries/month limit
---
F.A.Q
Is my data safe with JiraGPT?
›
Absolutely. Your trust is our priority. JiraGPT follows best practices set by Slack and Jira for integrations. It only asks for essential permissions and does not store or share any user-generated content. All interactions are encrypted and processed instantly, leaving no trace.
What is JiraGPT?
›
JiraGPT is your AI-Powered Jira Assistant designed to simplify Jira tasks directly from Slack. Instead of juggling between Slack and Jira, you can simply type requests into Slack and receive instant answers.
How do I get started with JiraGPT?
›
Start by installing the JiraGPT apps for both Slack and Jira from your dashboard. Once installed, invite the JiraGPT bot to your desired Slack channel by typing /invite @JiraGPT. Remember, it operates only within Slack channels and not in direct messages.
How do I use JiraGPT within Slack?
›
Simply type your Jira-related request in the Slack channel where JiraGPT is invited. Use the command format `/jiragpt` followed by your question. For example: /jiragpt show me issues assigned to John from the last week
---